Originally Posted on The Coaching Tools Company as Announcing *ALL NEW* "107 Social Media GRAPHICS for Coaches in a Box" (a whole 3 months worth!)
I'm excited to announce that our first 107 Social Media GRAPHICS in a Box - for Coaches is here! Covering April, May and June, check out this ready-to-use package of 107 fabulous graphics.

Save yourself tons of time and energy with this brand new product!
You've told us how little time you have to run and build a coaching business, how social media is a drain and hard to keep up with. Well, we listened.
I also know firsthand how frustrating it can be - and how long it takes - to find and create quality content to represent my business on Social Media.
Time is such a precious commodity - especially when you're a small business. This "107 Social Media GRAPHICS in a Box" product frees up your time and energy to work on growing your clients and business. No more spending hours hunting for the right things to share on social media!
Social media presence is necessary, especially for relationship focused businesses like coaching!
Clients, potential clients and fans expect us to have a Social Media presence these days. Plus, if we're not on social media we're missing out on a great opportunity to stay in touch with potential clients - reminding them that we're there when they need us...
So we designed and created this product to save you time, energy and money. You get 3 complete months of beautiful Social Media Graphics exclusively designed for coaches. They're neatly organized so it's EASY - and saves you tons of time and effort. The graphics are gorgeous, coaching-specific - and ready-to-use to build your fans on Social Media!
Brandable and Ready-to-use:
Take your business to the next level! With these 107 social media graphics PLUS user guides you'll have everything you need to run your social media for 3 whole months.
Brandable: Ready-to-use "as is" and you can also add your own branding!
Save Time! No more hunting for quality posts to share on social media.
Attractive: Bold and beautiful, boost your brand and establish yourself as a "go to" coach.
Less Stress: Easy to use and neatly organized in folders by month, week and day.
Grow and deepen your online relationships: Your fans and followers will love and share these beautiful graphics!
Exclusively designed for life coaches: Weekly coaching themes engage and inspire!
Use on a multitude of social media channels including Facebook, Twitter, Pinterest, Instagram & LinkedIn.
Carefully Chosen Monthly and Weekly Coaching Themes
This product is a comprehensive, balanced and carefully crafted set of graphics that take you through 13 weeks of hand-selected coaching topics.
April - Theme - Confidence
1.    Gremlins & Critics
2.    Strengths
3.    Courage
4.    Passion
May - Theme - The Benefits of Coaching
5.    Finding Fulfilment
6.    Be Happier
7.    Limiting Beliefs
8.    Celebrate Coaching (to align with Coaching Week*)
9.    Be a Leader in Your own Life
June - Theme - Authenticity
10.   Know Yourself
11.    Be Authentic
12.    Love Yourself
13.    Intuition Trust Yourself
* The International Coaching Federation's (ICF) International Coaching Week may change week slightly each year. Be prepared to move this week's content to the relevant week each year.
You deserve to wake up in the morning feeling excited about the day ahead! Hit the "Easy" button on your Social Media presence!

Included In The "107 Social Media GRAPHICS in a Box" Q2 Package:
Everything you need to maintain a regular daily presence on Social Media for 3 months - and deliver a great experience to new and existing fans and followers.
What You Get In This Social Media Package:
3 x MONTHLY Infographics
13 x WEEKLY Questions Graphics
65 x DAILY Inspirational Quotes
13 x SATURDAY Journaling Prompts
13 x SUNDAY Weekly Affirmations
→  For  a TOTAL of 107 Brandable Social Media Graphics
PLUS
A User Guide
The Text for all the Quotes, Journal Prompts & Affirmations
The Guide: "Where to Add Your Logo"
PS. Once purchased,  you can use these graphics elsewhere in your practice - the Weekly Questions Graphics and 3 Infographics make great session or short workshop outlines, can accompany blog posts & more!
This product will help you: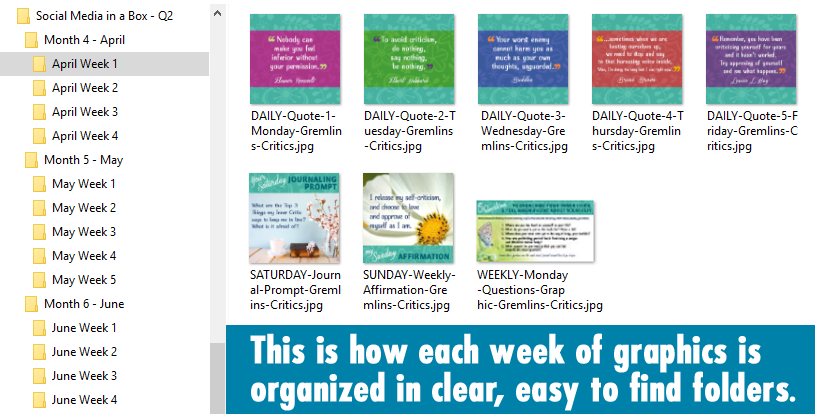 Save TIME: Whether you do your own social media or hire someone to do it for you, you'll save LOTS of time. Know exactly what you're posting each day/week/month and get more time and energy to work on your business instead of IN it.
Save ENERGY: Easy to use and neatly organized into folders by Month, Week and with the Topic and Day included in the filename), you'll know exactly what to post each day!
GET INTO A RHYTHM: Maintain your online presence with regular daily posts on Social Media and get into an easy rhythm.
ENGAGE WITH FANS AND FOLLOWERS ON SOCIAL MEDIA: Powerful and inspirational quotes and graphics on great topics to inspire clients to think and engage with you - and your business.
INTRODUCE THE COACHING PROCESS: Powerful questions, journaling prompts, infographics and affirmations have built-in reflection/action. These graphics introduce fans and potential clients to the coaching process - and hopefully get them hooked...
FEEL PROUD OF YOUR SOCIAL MEDIA PRESENCE: Beautiful graphics that represent you - beautifully.
YEAR AFTER YEAR: Reusable and flexible, these graphics can be re-purposed annually. Plus, more advanced social media users can mix things up and post the graphics on months/days that suit you (the dates are just suggestions).
No more social media stress! Take control, feel wonderful, organized and "ahead of the game"!
I hope you love this new social media for coaches product as much as I do!
Let me know what you think (or ask questions) by commenting below.
NOTE: Introductory Sale - 50% off for ONE WEEK ONLY - until midnight Sunday 30th April
If you like this article on social media and "done-for-you" products, you may also like:
Save
Save
Save
Save
Save
Save
Save
Save
Save
Save
Save
Save
Save
Save
Save
Save
Save
Save
Save
Save
Save
Save
Save
Save
Save
Save
Save
Save
Save
Save
Save
Save
Save
Save
Save