Originally Posted on The Coaching Tools Company as Documentary Review - Tony Robbins: I Am Not Your Guru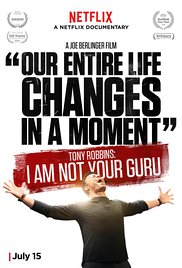 Tony Robbins is nothing if not controversial. This documentary, available on Netflix, paints the portrait of a man literally consumed with the need to help others and "remove their pain".
NOTE: Don't watch this documentary if you're language-sensitive! His methods involve swearing and using "the science of taboo language" (In NLP this is called "breaking state").
In this documentary I see a man who sees and understands human pain. I found myself crying within minutes of the documentary starting as he helps a young man who is feeling suicidal. Yet I left the documentary with mixed feelings. Does he help people and create shifts? For sure. But I see a man in a lot of his own pain.
Tony Robbins is constantly "sculpting" himself and pumping himself up to be the enormous stage presence that he is. He gets the crowd roaring, dancing - into peak states - and thrives on it. No one could say attending one of his seminars was not an experience they will remember for life!
I LOVED: that he asks great questions and challenges people to be more. He also encourages honesty, both with yourself and others. And he clearly believes in love. He says, "We all get what we tolerate", and ain't that the truth?
But I'm still figuring out why I'm left feeling uncomfortable. Is it my British "reserve"? Is it that he is literally "obsessed" with his work? What does he thinks life's emotional pain is there for? My beliefs about what makes us happy in life don't quite match Tony's passionate, driven fervour for achieving goals and creating the person you want to be. But one thing I do know is - he got me fired up and thinking!
Watch the movie and tell us what YOU thought by commenting below!
Here are some things to think about as you watch:
Tony is referred to as a "coach", and he certainly uses coaching questions - and NLP techniques - quite extensively. Would you call him a coach? Why/why not?
How well does he meet the coaching competencies? Which does he excel at? And where does he fall short?
Does he have his own agenda for people? Or is he truly focused on what they need? Perhaps both?
What do you think of his methods? Does the means justify the ends? Do his methods matter if he helps people?
Would you want to go to one of his events? Why/why not? What do you think you would learn?
PS. Does anyone else think he looks like Jaws from the old James Bond movies?
If you liked this movie review, you may also like:
Save
Save
Save
Save
Save
Save
Save
Like this post? Click LIKE or Share below!